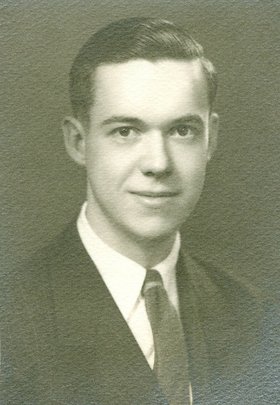 Robert H. Eich
unknown - March 28, 2012
Robert Henry Eich, 88, of, Fayetteville, passed away peacefully on Wednesday, March 28, 2012. Born Oct. 4, 1923, in Ann Arbor, Mich., he was the only and beloved child of Marion Moon and Dr. Louis Michael Eich. He grew up in Ann Arbor, where his father was a professor and his mother earned a master's degree in English at the University of Michigan. During his high school years he earned the rank of Eagle Scout and was a serious and dedicated music student.
Robert earned his baccalaureate at the University of Michigan where he proudly played cornet in the marching band. His education was interrupted by the WWII, in which he served in Europe with the 66th Infantry Division, US Army.
The day after he was awarded his Medical Degree, also from University of Michigan, he married Virginia Matz of Detroit, Mich. who he had met at the university. The married couple joined Doctors Gordon Moe and Richard Lyons, Robert's medical school mentors, at Upstate Medical Center in Syracuse.
Robert worked at Upstate from 1951-2010, attaining the rank of Professor of Medicine and serving as the director of the Coronary Care Unit (1968-1987), chief of the Cardiology section (1971-1982) and the director of the Cardiovascular Training Program (1987-2010). He authored or coauthored numerous professional papers and was the editor of the book Introduction to Cardiology. He was devoted not only to his patients, but also to the many medical students, Residents and Fellows who trained at Upstate.
Outside of work, Robert was a devoted family man. He read widely in many areas, especially American history, and enjoyed running and traveling. His family will cherish memories of trips to Cape Cod, Alpena, Michigan and historic sites. His membership in professional organizations and his connections to fellow physicians led to trips around the world.
He is survived by his best friend and wife of 60 years, Virginia; daughters Carolyn (Cynthia), Adrienne Mylott, Janet (John) Conley and son Douglas (Priscilla). Poppy will be missed by his grandchildren Austin Mylott, Kelcey and Caleb Conley, and Tasker and Owen Eich.
Calling hours: 2 to 5 p.m. Saturday, March 31, at Eaton-Tubbs Fayetteville Chapel, 7191 East Genesee Street, Fayetteville. Services will be private. For directions, florists, or a guestbook, please visit scheppfamily.com. Arrangements by Eaton-Tubbs Fayetteville Chapel of Schepp Family Funeral Homes. Contributions may be made in Dr. Eich's memory to AOA Scholarship Endowment. Upstate Foundation, 750 East Adams Street CAB 326, Syracuse, NY 13210.