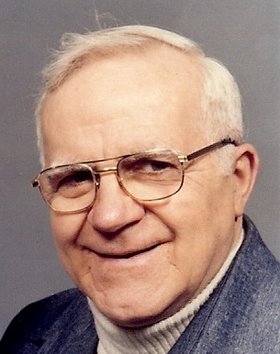 Leslie W. Clark
unknown - March 18, 2012
Leslie W. Clark, 90, of Fairmount, passed away March 18, 2012, at Community General Hospital.
Born in Elmira, he attended Southside High School before joining the Army in 1942. Leslie was a tile and carpet salesman for many years and after retirement he worked as a mail courier for West Genesee Schools. He was a long time member of Immanuel United Methodist Church and enjoyed flower gardening and walks through the neighborhood. He was predeceased by wife of 59 years Virginia (Boyd) in 2002; a brother Hank and two sisters Merrilee and Mina.
He is survived by a daughter Judy (Jim) Britton of Camillus; a son Thomas (Maryann) Clark of Florida; three brothers David, Fritz and Ted all of Elmira; two sisters Myrtle Keithline of Florida and Mildred Folmer of Elmira; seven grandchildren and 12 great grandchildren.
Calling hours and services were held at the B.L. Bush & Sons Funeral Home, 10 Genesee (Main) St., Camillus. Burial with military honors was in Greenlawn Cemetery, Warners. Please sign his guestbook blbush.com.