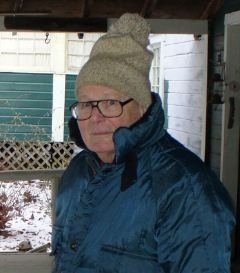 Morgan Cooper
unknown - March 7, 2012
Morgan "Scoop" Cooper, 86, a longtime Syracuse resident, died March 7, 2012, in Indianapolis, Ind. He was born Dec. 19, 1925, in Syracuse to James and Harriet M. Cooper. He attended Cherry Road School and Solvay High School and graduated from Governors Academy, South Byfield, Mass., in 1943. He received a bachelor's degree from Harvard College in 1949 and an MBA from Cornell University in 1951. He married the former Eleanor Ogg of Syracuse, in 1953. She died in 2011.
An Army veteran of WWII, serving in the 70th Infantry Division, he saw his first combat on Christmas Eve 1944 and was wounded at Saarbrucken, Germany, in February 1945. He received the Combat Infantry Badge, a Purple Heart and a divisional commendation for rescuing a wounded comrade.
He retired as treasurer of Hall & McChesney, Inc., of Syracuse. He was a longtime board member of Child and Family Service and a United Way volunteer, serving on planning and allocations panels. A member of the Sports Car Club of America, he was Regional Executive of the CNY Region and active in sports car rallies and race administration as a licensed chief timer and scorer. He was an approved Alpine Race Official for the United States Eastern Area Ski Association and a former member of Cazenovia Ski Club and Skaneateles Country Club. He was also a longtime member of St. David's Episcopal Church in DeWitt.
Except for his years in the Army, he spent every summer of his life - and many more days in fall, winter and spring - at his beloved family camp on Skaneateles Lake, The Pines. There, he enjoyed sailing, fishing, birding, duck hunting, carpentry and sharing family stories and camaraderie. A careful steward of the land and legacy of his extended family - six generations of whom have walked that land - he taught numerous lessons to countless cousins.
He is survived by his younger son, James Morgan Cooper (Susan) of Indianapolis; brother, Ransford S. Cooper (Janice) of Glen Ellyn, IL; sister, Amelia C. Dupin (Paul) of Calistoga, CA; four nephews; a number of grand nieces and nephews; and many cousins. He was predeceased by his older son, Lt. JG John Ogg Cooper, U.S. Navy.
Services were at Trinity Episcopal Church, Indianapolis. A memorial service will be held on The Pines beach this summer. Burial will be in Oakwood Cemetery, Syracuse. For guestbook, please visit scheppfamily.com.