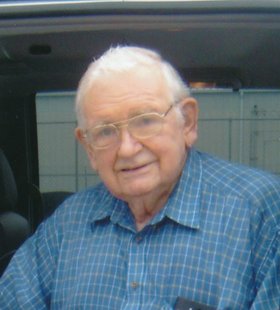 Thomas R. Woods
unknown - March 18, 2012
Mr. Thomas R. Woods, 85, passed away Sunday, March. 18, 2012, of heart failure. Mr. Woods was born in Ontario, Canada on Sept. 13, 1926. He came to the U.S. on May 13, 1957 and eventually moved to Lakeland, FL from Syracuse in 1993. He attended First Baptist Church at the Mall and was a member of the Seekers II Sunday School Class in Lakeland, FL and a member of the Cornerstone United Methodist Church, Baldwinsville. Mr. Woods was a 61 year member of St. John's Mason Lodge #63 in Carleton Place, Ontario, Canada; Scottish Rite, Valley of Syracuse and Tigris Shrine of Syracuse, NY. He also belonged to the Onondaga Star Chapter #144 Order of the Eastern Star. He was proud of his Irish heritage and was a great storyteller. He enjoyed fiddle music and being with other people, especially children. Mr. Woods was Santa Claus for nearly 60 years and made thousands laugh at his antics in the Shrine Clown Unit for years. He created "Leaping Lena," a clown car that rose up on the back wheels as the clowns drove in numerous parades. Mr. Woods was preceded in death by his 1st wife, Freda McCall and his sisters, Jean McKay and Ellen Smith.
He is survived by his wife, Mary Ann Bauerle; children, Catherine Woods, Connie (Tom) Tyrrell, Beth (Bryan) White and Charles (Jessica) Bauerle; brother-in-law, Ross McCall of Carleton Place, Ontario, Canada; grandchildren, Thomas, James and Robert Tyrrell, Bryan "Bry" White, Maranda, Jacob and Wyatt Harrell; and great grandchildren, Tyler Hall Tyrrell and Briana Hall. Several nieces and nephews.
Calling hours: 1-3 p.m. Sunday, March 25, at Falardeau Funeral Home, 93 Downer St., Baldwinsville, followed by a Masonic Service and a celebration of life service. Burial: 9 a.m. Monday, March 26, in Riverview Cemetery, Baldwinsville. Contributions: A Masonic Affiliation of ones choice.