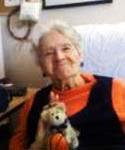 Janet Hughes
unknown - March 16, 2012
Janet H. Hughes, 91, of Harris, N.Y., formerly of Cicero, retired as high school librarian for the North Syracuse School District, died Friday, March 16, 2012, in the Skilled Nursing Unit of the Catskill Regional Medical Center, Harris. She was born Oct. 11, 1920 in Syracuse.
Janet was a graduate of Syracuse University and a member Phi Mu Sorority. She was an avid SU Basketball fan. She enjoyed cross-word puzzles and reading.
John W. (Bud) Hughes, her husband predeceased her on September 22, 1972. Survivors include three daughters, Martha A. Hughes of Lily Dale, NY, Beth E. Johnson and her husband, Bill of Honesdale, PA and Amy Amaral and her husband, George of Parksville, NY; three grandchildren, Christy Schuler of Santa Barbara, CA, Scott Schuler of Frisco, CO and Katelyn Amaral of Parksville, NY. Funeral services were held March 19 in Liberty, N.Y., at Harris Funeral Home. Visitation: 11 a.m. to noon Saturday, April 14, at Fergerson Funeral Home, 215 South Main Street, North Syracuse with burial following in Pine Plains Cemetery, Clay.
Contributions, in her name, may be made to the Honesdale Public Library, 1406 North Main Street, Honesdale, PA 18431. Memorial messages may be left at FergersonFuneralHome.com.