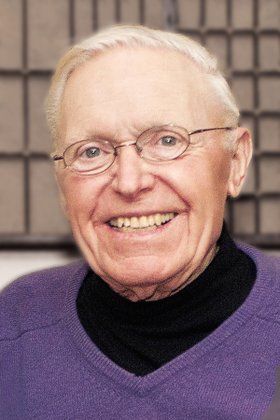 Wilfred A. Côté, Jr.
unknown - March 8, 2012
Wilfred A. Côté, Jr., died on March 8, 2012 in Syracuse. He was born in Willimantic, Ct., on May 27, 1924 and lived there until 1950 with absences for the University of Maine (1942-43), WWII (1943-46), and the University of Maine (1946-49).
He served in the Army Signal Corps as a Cryptographic and Signal Center Chief in the European Theater of Operations. During the summer of 1945 he attended Sorbonne University in Paris, in French language and Area Studies.
He is survived by his wife of 64 years, Irene Campbell Côté, five children [Wilfred III (Judith) of Milford, OH; Peter (Gayle) of Ephrata, PA; Aline Kawaler (Michael) of St. Louis, MO; Denise Côté-Arsenault (Peter) of Greensboro, NC; and Matthew (Jennifer Koviach-Côté) of Hebron, ME], 13 grandchildren and 16 great-grandchildren.
Besides a bachelor's degree in forestry from the University of Maine, he received an master's degree from Duke University and a Ph.D. from SUNY College of Environmental Science and Forestry and Syracuse University.
He taught wood science and technology at SUNY ESF and served three years as chairman of the faculty and five years as dean of the School of Engineering. He established the first electron microscopy laboratory in Central N.Y. and served as Director of the Center for Ultrastructure Studies.
He was author and co-author of 92 technical papers and books, and Editor of a series of Wood Science books published by Syracuse University Press. Dr. Côté retired a Distinguished Services Professor in 1991.
In addition to a distinguished professional career, Dr. Côté was also a leader in many community and church related organizations in Syracuse.
Funeral mass: 10:30 a.m. March 26 at the St. Thomas More Catholic Center on the Syracuse University campus on March 26, followed at the same location by a reception at 11:30 a.m. and a celebration of life from 12:30 to 2:30 p.m. Contributions in Dr. Côté's memory may be made to the ESF Foundation, 214 Bray Hall, 1 Forestry Drive, Syracuse, NY 13210 for a scholarship fund to be established in his name or to the St. Thomas More Foundation, 110 Walnut Place, Syracuse, NY 13210. Please visit taitfuneralhome.com to send the family condolences.