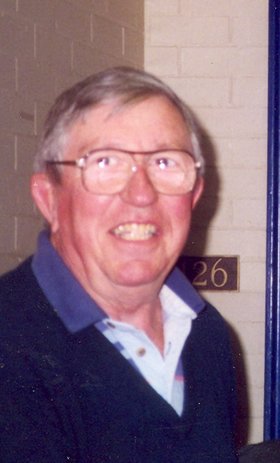 Joseph Duffy
unknown - March 1, 2012
Joseph Bernard Duffy, 78, a resident of Marcellus, died on March 1, 2012. Son of Nora Brick and Joseph John Duffy, Joe was born and raised in Duquesne, Pa. He graduated from Slippery Rock University, Pennsylvania in 1956 and Syracuse University in 1964 with a master's degree in counseling. In 1996 Joe was inducted into the Slippery Rock University Sports Hall of Fame.
Joe was a guidance counselor at Marcellus Schools for 25 years and coached many different sports. He loved basketball, golf, and the Pittsburgh Steelers, but most of all Joe loved spending time with his family, friends and being of service to the students at Marcellus High School.
He is survived by his wife, Lynwood Bost Duffy and his children Beth McNamee (Steven), John (Camilla), Tom, Kate Shanahan (Peter) and grandchildren Megan and Jennifer McNamee, Jackson and Julie Duffy, and Brendan and Brody Shanahan.
Celebration of Joe's life: 10 a.m., Saturday, March 10, in St. Francis Xavier Church, Marcellus, followed by a reception in the church hall, where the family will receive friends.
The family requests that in lieu of flowers contributions be made to the Michael J. Sheridan Memorial Scholarship Fund at CNY Community Foundation, 431 East Fayette Street, Suite 100, Syracuse, NY 13202 or Hospice of CNY, 990 Seventh North Street, Liverpool, NY 13088. Arrangements with Ryan Funeral Home, Marcellus.