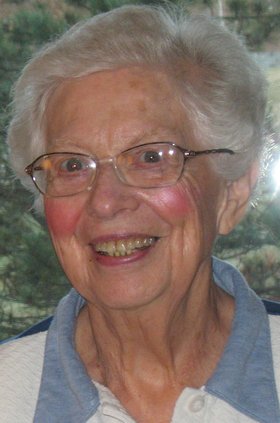 Dorothy White
unknown - February 29, 2012
Mrs. Dorothy Rose White died Feb. 29, 2012, in Lake Ridge, Va, where she lived since November 2002. As the eldest of two children, Dorothy Rose Hunsinger was born in Buffalo on March 20, 1921. She and her sister spent most of their growing up years in Syracuse with many summers working and playing on the family's farms in northern Pennsylvania (where she was a bit of a tomboy).
Dorothy met Charles Thomas White in 1941 and they were married during WWII on March 28, 1943, after a Valentine's Day proposal. After Charles completed his service in the Navy, they lived in or near Syracuse for the remainder of their married life. Charles preceded Dorothy in death in August 1999. Dorothy is survived by her sister Norma Hunsinger Hay, brother-in-law Dale Hay, son Gregory White, daughter Carolyn White, grandson Charles White, four great-grandchildren, as well as nieces, nephews, and cousins.
A signature feature of Dorothy's life was her deep, abiding faith and commitment to service within her church community. She was a remarkable student of the scriptures and loved to read. Her favorite church responsibility was as a Sunday School teacher starting from age 14 through much of her adult life. She was always ready with a listening ear and helping hand. She loved her savior and always wanted to follow him. Dorothy loved music, particularly if that meant dancing with Charlie to Glen Miller (even in their 70s). Dorothy's family and friends will miss her and yet rejoice that she can now be with Charlie and her extended family.
Memorial service: March 17 at the Lake Ridge Chapel of the Church of Jesus Christ of Latter Day Saints located at 3718 Old Bridge Road, Wood-bridge, VA 22192. In lieu of flowers, donations may be made to Charles and Dorothy White Scholarship Fund, OCC Foundation, 4585 West Seneca Turnpike, Syracuse, NY, 13215. Interment: 2 p.m. March 23 at White Chapel Memory Gardens in DeWitt. To send your condolences to the family, please visit taitfuneralhome.com.