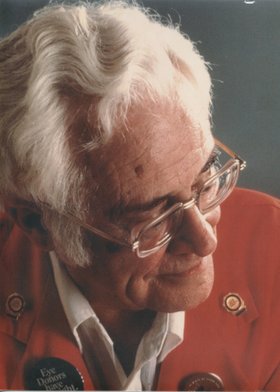 Donald DeBlois
unknown - March 6, 2012
Donald Holman DeBlois, 89, of Cazenovia, transitioned from this life on March 6, 2012. Born in 1922 in Brooklyn, N.Y., he was predeceased by his parents, Hollis Holman DeBlois and Lucille Muens DeBlois; his first wife, Rosalyn Gourlay DeBlois; and his second wife, Eva Walsh DeBlois.
Following graduation from Tenafly (New Jersey) High School, he studied engineering at Stevens Institute of Technology and Rensselaer Polytechnic Institute, where he was a member of Theta Chi fraternity and the swimming and diving team. He served in the U.S. Army during WWII, supporting the harbor defenses of San Francisco, Panama, Ecuador and the Galapagos Islands. Always modest about his role in the "Greatest Generation," after honorable discharge as a second Lieutenant, he remained active in the Army Reserve, retiring with the rank of captain. An active member of the American Legion, in 2003 he received from Post 88 in Cazenovia the Legion's Law and Order Award.
During a long career with Western Electric, the manufacturing division of The Bell System/AT&T, he held various supervisory and management positions, including business methods writer and telephone PBX installation supervisor. His strongest professional interest was in labor relations and human resources management, in which he had training from the University of California, Berkeley.
Don was a tireless, dedicated volunteer for numerous community organizations, most notably as a 1973 charter member of the Cazenovia Area Volunteer Ambulance Corps, which he served as a dispatcher for 29 years. In addition he gave many volunteer hours to Crouse Hospital in Syracuse, Central New York Eye Bank, Cazenovia Town Planning Commission, Cazenovia Civic Club, Syracuse Better Business Bureau, Retired and Senior Volunteer Programs of Madison County, and the Chittenango Landing Canal Boat Museum.
In 1989, in honor of Rosalyn Gourlay DeBlois, RN, and Eva Walsh DeBlois, RN, he underwrote the Maternity and Child Care Department office in the Crouse Hospital School of Nursing Marley Education Center. In 1999, he endowed The DeBlois Family Fund for the Kinzle Family Maternity Center at Crouse Hospital. He was a regular communicant of St. Peter's Episcopal Church, helping launch The Key church store, and, more recently, the United Methodist Church in Cazenovia.
A lifelong lover of sailing, Don was first bitten by the boat bug as a boy during summers on Wanaksink Lake in the southern Catskills. He later built his first vessel, a 10-foot sailing dinghy, in his garage and moved on to progressively larger sailboats that he sailed on Cazenovia Lake, Oneida Lake, and Wellfleet Bay, Cape Cod. Later in life, he was an RV/motor home "road warrior" with his close friend Wilma "Willie" Gilmore.
Family and friends will always remember Don as a straight talking, determined individual whose life choices always put first the needs of loved ones and the communities he served. Like a "yar" sailing vessel, his sails were trim, his lines coiled, his keel stable, and his direction true. One of his favorite sayings was "A place for everything and everything in its place," and so will he forever hold a rightful place in the hearts of those who love him: his children Peter and wife Marta Garay, Jeffrey, and Ellyn and husband Gary Hass; grandchildren Geneviève, Danielle, Adrienne and husband Kyle Durant, Jacob, Liesl and husband Joshua Coope, and André; great grandchildren Kian, Carley, Connor, Adrian, Tyler, and Isaiah; dear friend Willie; and many others whose lives he touched.
Contributions in Don's name may be made to Cazenovia Area Volunteer Ambulance Corps, PO Box 56, Cazenovia, NY 13035; or to Crouse Health Foundation, 736 Irving Avenue, Syracuse, NY, 13210. Please share your thoughts with the family in the guestbook: taitfuneralhome.com.