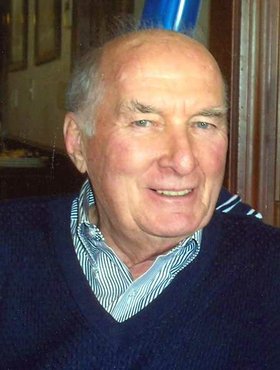 Charles J. Miller
unknown - March 2, 2012
Charles J. Miller, 79, of Camillus, died peacefully on Friday, March 2, 2012, after a long illness. Born in Syracuse on Saturday, July 23, 1932, he was the son of John Miller and Agnes Kern. He moved to Camillus in 1963, where together with his wife Pauline, he raised three loving daughters.
Charles and Pauline met while working at the A&P on the west end. He began his sales career with Beech Nut Corporation and later held senior positions with Nestle and Fleming Foods. He also worked at Westvale Golf Course, Sweetheart Markets and Nojaim's.
A wonderful son and brother, Charlie had the responsibility of caring for his mother when his father left the family and moved to California when Charlie was a young boy. He accepted this responsibility without question, even though it prevented him from joining his brothers in the service. His family also witnessed his dedication to his mother while making daily visits to St. Camillus for 10 years.
A great father, husband and provider, Charlie taught his daughters to believe they could achieve their goals if they worked hard and stayed focused. He was known for saying, "If you always do your best, you'll have no regrets and you can hold your head high."
He loved spending time with his grandson, Jack.
Charlie was known to many and loved by all; he will be profoundly missed. His charm, wit and teasing nature brought smiles to all those who knew him. What fun he had in recent years when he tried to get more than his fair share of attention from his rehab therapists and other caregivers. He believed having fun was an important part of everyday life, and he skillfully mixed business with pleasure at every opportunity. Charlie's faith, gentle strength, courage and determination allowed him to rally when others may have given up. He was a forgiving person who always looked for the good in others. Also kind, generous and respectful, he thoroughly enjoyed doing things for others. He showed his family by example that it is better to give than to receive and the importance of honoring their commitments.
An accomplished golfer, Charlie relished being with his friends on the golf course. His smooth, easy swing was a thing of beauty.
Charlie was predeceased by his wife of 57 years, the former Pauline "Polly" Krusac, on Feb. 26, 2011; parents, John and Agnes Miller; sister, Mary Sauer; and brothers, Tom and Jack Miller.
Surviving are his daughters and sons-in-law, Michele and George Becker of Morristown, New Jersey, Paulette Miller of Camillus, and Beth and Todd Lindenmuth of Penfield, New York and their son, Jack.
Relatives and friends called from 5 to 8 p.m. Tuesday, March 6, at the Buranich Funeral Home, 5431 W. Genesee St., Camillus. Msgr. George F. Sheehan celebrated a funeral Mass at 10:30 a.m. Wednesday, March 7, in St. Joseph's Church. Charles was laid to rest in Greenlawn Cemetery, Warners.
Contributions may be made to the Alzheimer's Association of Central New York, 441 West Kirkpatrick St., Syracuse, NY 13204. Please share condolences at buranichfuneralhome.com.