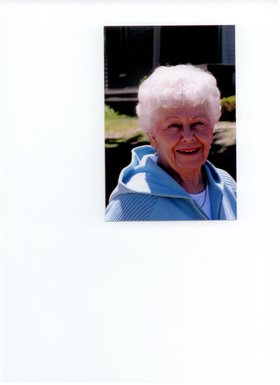 Ann J. Sheriff
unknown - March 2, 2012
Ann J. Sheriff, 93, formerly of Taunton, passed away peacefully March 2, 2012, at her son and daughter in laws home in Preble, N.Y. Ann was born on July 15, 1919, in Green Bay, Wisc., to John and Catherine Montevideo. Ann was predeceased by her husband, Irving R. Sheriff. Ann was a loving wife, mother and grandmother. She was an avid golfer and enjoyed boating, gardening, cooking, and traveling. Ann and Irving often wintered in Sarasota, Florida.
Ann is survived by her five children, Sandra (Bruce) Gehrke of Minneapolis, Janice (Howard) McCarthy of Camillus, Richard (Kathy) Sheriff of Preble, Michael Sheriff of Minneapolis, Donald (Christel) Schmitz of Mountain Home, Idaho, 12 grandchildren, and 7 great grandchildren.
A private service will be held for the family followed by a private burial at Greenlawn Cemetery, Warner's. Contributions may be made to Francis House, 108 Michaels Avenue, Syracuse, NY 13208. Whelan Bros. & Hulchanski Funeral Home, 5854 Belle Isle Road, Syracuse, NY 13209, had arrangements.