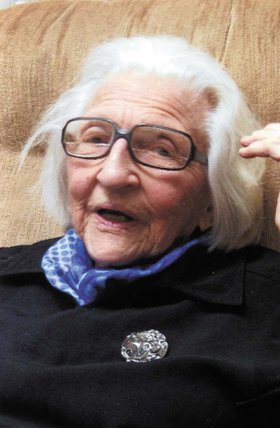 Tuddy Dunlevy
unknown - February 29, 2012
Tuddy Dunlevy gently passed away at Miles Memorial Hospital on Wednesday, Feb. 29, at the age of 94, just 35 days short of her 95th birthday.
Pauline Gladwin Reilly, known to everyone as "Tuddy" was born in Malden, Mass., on April 5, 1917. Her parents, Paul and Doris Reilly had five children. Tuddy was the oldest, followed by her brother Jimmy, sister June, sister Barbara and brother Russell. Tuddy is survived by only one sibling, June Fitzpatrick. Tuddy is also survived by her two daughters, Jane Dampeer of Ennis, Mont., and Reilly Hutchinson (husband Peter ), of Groton, Mass., seven grandchildren, Reilly Dampeer, Thessaly Barnes ( husband John), John Dampeer, Brittany Hutchinson, Erin Hutchinson, Kelley Hutchinson and Bradie Hutchinson, and two great-grandchildren, Jane and Beckham Barnes. Tuddy is also survived by many wonderful and caring nieces and nephews.
Tuddy graduated from high school in New Harbor, Maine, in 1935 as the only girl out of a graduating class of eight. The following year she attended nursing school at State Street Hospital in Portland, Maine. After graduation, Tuddy enlisted in the Army as a nurse during WWII. She was stationed in the South Pacific, first on the Island of Tonga and later the Island of Fiji, where she met her husband Tom Dunlevy. Tuddy and Tom were married on the Island of Fiji on Nov. 5, 1943. After the war, Tuddy and Tom moved to Stoneham, Mass., then to Knoxville, Tenn., and eventually to Cazenovia, where she was active in the American Red Cross for many years. They lived in Cazenovia for 35 years and had many wonderful friends there. In 1985 Tuddy and Tom moved to New Harbor, her childhood home, where her sister and many family members still reside. For the next eight years, Tuddy lovingly cared for Tom, who had been diagnosed with Parkinson's Disease. Tom passed away just weeks before their 50th wedding anniversary in October 1993.
Tuddy enjoyed being around others, and loved her family. She had a special love for all children, and enjoyed crossword puzzles, jigsaw puzzles and having a beer on her front porch with family, friends and neighbors. Tuddy had a zest for life and a good sense of humor. She was a special person who left this world on a special day, a leap year, Feb. 29, 2012.
The family wishes to thank the staff of Coves Edge Nursing Home and Miles Memorial Hospital for the love and care provided to Tuddy during her time there.
A memorial service will be held on Saturday, May 5, at the Strong-Hancock Funeral Home in Damariscotta, Maine. Please contact Strong-Hancock Funeral Home for details. Memorial donations may be made to the Bristol First Responders: Care of: Jeri Pendelton, 104 South Side Road, New Harbor, Maine 04554 .