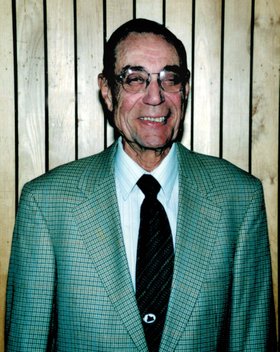 Henry Fischer
unknown - March 2, 2012
Henry Fischer of North Syracuse, husband of his beloved wife and partner, Helen, son of Martha and John Fischer, passed away March 2, 2012. Born in Lyncourt March 30, 1928, he graduated from Vocational, attended classes at Tri State College and Syracuse University Continuing Education. He was employed by Continental Can, secretary treasurer of Reliable Farm Supply and as territory rep for Uebler Equipment. Former member Luther Memorial where he served as Financial Secretary, he was a lifetime member DeMolay, 62-year member of Memorial Lodge 648 F.& A.M. and Central City Bodies A.A.S.R. He was also past president of the Rotary Club of North Syracuse, a Paul Harris Fellow, member of Arrowhead Golf Association, Auxiliary to Community General Hospital and a volunteer for 18 years with 11,000 hours of service. He served six years on the North Syracuse Central School Board with two years as vice president and then chaired the Annual Meeting for 15 Years. A 35-year volunteer at WCNY, last as president volunteer steering committee and past president of the North Syracuse Dollars for Scholars.
Survived by his best friend and beloved wife of 63 years, Helen Viel Fischer; his children, Kathryn Fischer, John (Anne), Kurt (Sarah) and William (Lee); grandchildren, Michael (Kelsey), Jennifer, Brian (Mary), Katie, Eric, and Elizabeth; great-granddaughter, Brynnleigh; sister, Dorothy (Bruce) Fullmer of Phoenix, AZ, and several cousins in West Germany.
His thanks go to his wife and children for all they have done and to CNY Hospice for their care.
Masonic Services: 8 p.m. Tuesday, March 6, at Fergerson Funeral Home. Calling hours: 6 to 8 p.m. on Monday, March 5, and 2 to 4 and 6 to 8 p.m. on Tuesday, March 6, at Fergerson Funeral Home 215 South Main Street, North Syracuse.
Donations may be made, in lieu of flowers, to W.C.N.Y, PO Box 2400, Syracuse, NY 13220-2400 or Hospice of CNY, 990 Seventh North Street, Liverpool, NY 13088 or to North Syracuse Dollars for Scholars, PO Box 5205, Syracuse, NY 13220-5205. Memorial messages may be left at FergersonFuneralHome.com.