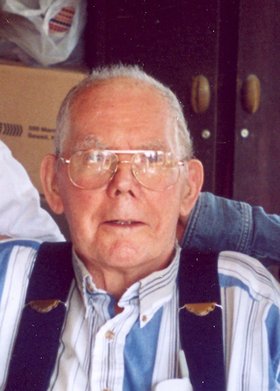 Francis Eibert
unknown - February 22, 2012
Francis Gay "Bud" Eibert, 94, of Marcellus died Wednesday, Feb. 22, 2012, at VanDuyn with family by his side. Born in Otisco, son of Harry and LeOra (Gay) Eibert, Bud worked as a farmer, continuing the family farm he grew up on in Marcellus. He loved traveling, especially to Alaska. Bud was predeceased in 1997 by his wife Marjorie.
Surviving are his children Janet (John) Seymour of Amber, Duane (Fran) Eibert of Marcellus and Debbie (Joe) Eibert of Amber; nine grandchildren; 13 great-grandchildren; sister-in-law Leda Stopyro; many nieces and nephews.
Calling hours were 4 to 7 p.m. Wednesday, Feb. 29, at Ryan Funeral Home, Marcellus. Services were held 10 a.m. Thursday, March 1, at the funeral home. Burial was at Highland Cemetery, Marcellus.
In lieu of flowers, contributions may be made to MAVES, P.O. Box 203, Marcellus, NY 13108 or First Presbyterian Church of Marcellus, P.O. Box 147, Marcellus, NY 13108.