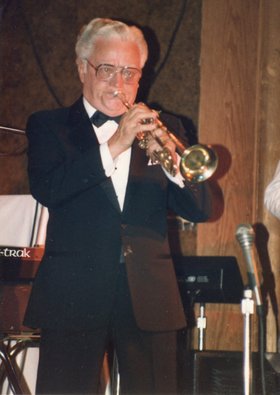 Gus Rowe
unknown - June 15, 2012
On June 15, 2012, Gus Rowe, 94, of Baldwinsville, passed away peacefully in the loving hands of his wife and family. Gus as he was known, was a lifetime resident of Baldwinsville, New York and a U.S. Army veteran of WWII.
Gus spent his whole life in the retail clothing business in the Baldwinsville, Fulton and Syracuse areas. He started his career as a teen at Decker Northrup in Baldwinsville and retired from Rowe's Men's Wear and Princess Shop in Baldwinsville.
Gus and his wife, Lois, worked side by side everyday. The love that they had for each other was known by all who knew them.
The love Gus had for his family and friends was never ending. He also loved sports, music and his horses (Popcorn and Crackshot). He frequently spoke of how good he was during his athletic days in B'ville.
Besides the clothing business, Gus was very well known for the little dance band that he had. Many people remember dancing the nights away to Gus' trumpet playing at Odd Fellows in Baldwinsville.
Surviving are his wife of almost 60 years Lois, and 4 kids, Max Jumper (Jeanne) Atlanta, GA, Doug Rowe (Royetta) Baldwinsville, NY, David Rowe (Patty), Dunedin, FL and Beth Amisano (Steve) Medford, NJ, 10 Grandchildren, 5 Great grandchildren.
The family plans private services at a later date and time. All prayers and well wishes have been greatly appreciated.