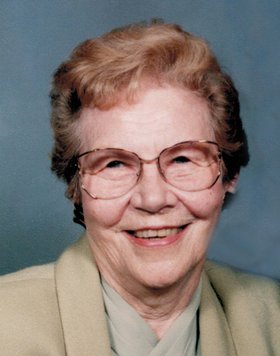 Lois E. Butler
unknown - June 13, 2012
Lois E. Butler, 93, of North Syracuse, died Wednesday, June 13, 2012, at Elderwood with her family by her side. Born in Perry, N.Y., she had lived in North Syracuse since 1953. She retired after many years with General Electric as an Executive Secretary. A charter member of Northminster Presbyterian Church, she was an active member of several church committees and regular church volunteer. She was an avid SU fan and golfer.
Mrs. Butler was predeceased by her husband of 55 years, Wilson F. Butler, on August 10, 1995; by her parents, William H. and Sadie Terwilliger Mahan; her brother, Frank Mahan; her sister, Elaine Mahan Smith and a nephew, Wayne Smith.
Surviving is "special" daughter, Judy (Carl) Wojcik of North Syracuse and their children, Dan, Michelle and Shannon. Also surviving are her nieces and nephews, Jack Mahan of Brockport; Debra (Leonard) Jarzynski of Texas, Terrence Smith of Florida; Sue (Michael) Sharp of Brockport and Wendy (Robert) Thomas of Buffalo; grand nieces and nephews, Darrick and Aaron Smith, Kevin Jarzynski, Jessica and Bradley Smith, Leah Sharp, and Evan, Zachary and Emily Thomas.
Services: 10 a.m. Saturday, June 16, at Northminster Presbyterian Church, 7444 Buckley Road, North Syracuse. Burial will be in Glenwood Cemetery, Perry, NY. Calling hours: 4 to 7 p.m. Friday, June 15, at Fergerson Funeral Home, 215 South Main St., North Syracuse.
Donations may be made in her memory to the Northminster Presbyterian Church. Memorial messages may be left at FergersonFuneralHome.com.