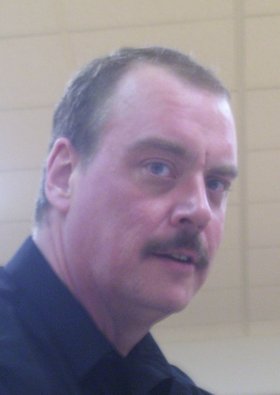 Donald A. Mabie
unknown - June 7, 2012
Donald A. "Buck" Mabie, 42, of Morrisville died Thursday, June 7, 2012. A career firefighter and Emergency Medical Technician, Buck earned the level two fire investigator title at the NYS Fire Academy. He was active in several fire departments including South Minden; Mohawk Valley Ambulance Corps, serving as deputy chief of vehicle maintenance; Middleville, where he served as past president and first assistant chief and received the Firefighter of the Year Award; S&S Ambulance; A volunteer firefighter for Madison Fire and Morrisville Fire where he served as past president and former EMS captain; An EMT for Greater Lenox Ambulance and SOMAC where he received the Thomas J. Gilpatrick award. Buck was a member of Patriot Guard Riders and the Red Knights Firefighters Motorcycle Club. He was a NYS licensed armed guard for Gryphon Patrol.
Buck is predeceased by his parents Karl and Betty in 2002. He is survived by his wife Beth of Morrisville; his stepson, Matthew Marshall of Morrisville; his siblings, Kyle (Chrissy) Mabie and Lauren Merendo both of Hagaman, NY; he is also survived by several aunts, uncles, nieces, nephews and cousins.
Services: 11 a.m. Tuesday, June 12, at the Morrisville Community Church. Calling hours: 4-8 p.m. Monday, June 11, at Tait Funeral Home, Inc., 2333 Fenner Rd, Cazenovia. Burial will in Woodlawn Cemetery in Hamilton. Contributions may be made to Morrisville Fire Department, Union St., Morrisville. To send an online condolence, please visit taitfuneralhome.com.