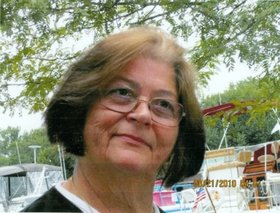 Patricia E. Emerson
unknown - June 2, 2012
Patricia E. Emerson, 68, of Cazenovia, died Saturday, June 2, 2012, at Crouse Hospital. A resident of Cazenovia since 1957, Pat was a former member of the Cazenovia Fire Department Auxiliary. She loved the Yankees and was an avid boater with her husband. She was an enthusiastic member of the Snug Harbor Boaters Association. She enjoyed and excelled in the art of gourmet cooking and her dishes reflected this. Her love of family and her close friendships will forever be treasured.
Pat is predeceased by her son William.
Surviving are her husband, R. Shain; her son Michael (Ann) of Nelson; her daughter-in-law, Debi Phinney (Dan) of Cazenovia; her brother, Mark A. (Cindy) Clark of Crestview FL ; cousin, Sandy Schneider of Liverpool; brother-in-law, Walter LaJoy of Granby, CT; her grandsons Shain C. (Ashley) and Jeffrey W. both of Cazenovia and her nephews, Mitchell and Michael Clark.
Graveside services: noon June 9 in the Nelson Rural Cemetery, Thomas Road in Nelson, with calling hours folllowing the graveside service at the Lincklaen House in Cazenovia. Contributions in Pats memory may be made to the Cazenovia Central School Scholarship Fund C/O Cazenovia Central School Business Office, 31 Emory Ave, Cazenovia , NY 13035 or to Wanderer's Rest Humane Association PO Box 535 Canastota, NY 13032. To leave an online condolence, please visit taitfuneralhome.com.