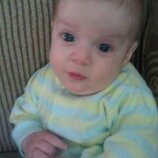 Kasey James Richardson
January 18, 2012 - June 4, 2012
With heavy hearts and tears in our eyes, we kiss our sweet baby goodbye. Born on Jan. 18, 2012, Kasey James Richardson met the eyes of Jesus on Monday, June 4, 2012.
Kasey is survived by his parents, Tony (Janice Mucenski) Richardson of Liverpool; his five loving siblings, Nicholas, Anthony, Cameron, Hannah and Sean; paternal grandparents, Ronnie Richardson and the late Anthony Richardson; maternal grandparents, Catherine Mucenski and Thomas Mucenski; maternal great-grandmother, Helen Monaco. He was loved by many aunts, uncles and cousins.
Funeral services: 11 a.m. Thursday, June 7, in Pope John XXIII Catholic Church, 8290 Soule Road, with a mass of Christian burial celebrated and the Rite of Committal and burial following in Our Lady of Peace Cemetery.