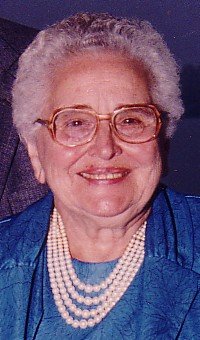 Jean Hughes
unknown - June 15, 2012
Jean Hughes (nicknamed "Jeannie the Pooh" by one of her sons), formerly of Skaneateles, died May 15, 2012 in the comfort of the home of her daughter and son-in-law, Priscilla (Sil) and Carl Young of Colonie, N.Y., with family by her side.
Mrs. Hughes was born Sept. 15, 1920 in Marcellus, the daughter of James and Ethel Stone. She was predeceased by her husband (Hugh), daughter (Judith Babcock), daughter-in-law (Katherine Hughes) and grandchildren (Michael Young and Carolyn Young).
She is survived by sons William Hughes ( Mt. Solon, VA) and Thomas Hughes (Connie) Lake Forest, CA, daughter Sil Young (Carl) Colonie, NY, grandchildren Carol Brewington and family of Apex, NC , William (Missy) Hughes and family of Pittsboro, NC, Cynthia (Jim) Moore and family of Owego, NY, Betty (Dwight) Swope and family of Churchville, VA , Barbara ((Aubrey) Fuller and family of Mt. Solon, VA , Karen (Tim) Waldron and family of Churchville, VA , Kirsten Young of NC , Eric (Suzy) Hughes and family of San Carlos, CA , David (Ellen) Young and family of Colonie, NY, Robert (Amy) Babcock of Hagerstown, MD, Mark (Stephanie) Hughes and family of Alphretta, GA , Brian (Julie) Hughes and family of Park City, UT , and David (Cristina) Hughes of Fischers, IN, son-in-law Duane Babcock of, Swanton, MD. Mrs. Hughes is also survived by many great grandchildren and great-great grandchildren. She is also survived by two "adopted" exchange students she and her husband hosted, Hannelore Evers Longolius (Berlin, Germany) and Joachim Evers (Westphalia, Germany).
She was very grateful for her generous and thoughtful neighbors, especially George and Jill Newton and Kevin and Betsy Sio and their families, and frequent visitors, especially Patty Clark (provider of regular hot fudge sundaes), all of whom enriched her life and enabled her to live comfortably after her husband's death.
Mrs. Hughes was a wonderful mother who was very involved in the lives of her children, her church, and the school community. Her children's friends knew they were always welcome at her home. In earlier years, she was a volunteer at Skaneateles FISH, a Sunday school teacher and Youth Fellowship advisor at First Presbyterian Church, grade mother, Cub Scout leader, and very active in the activities at the Big Moose Community Chapel, particularly the annual Balsam Bee.
Knitting was one of her favorite hobbies in later life. She donated hundreds of hand-knit hats to the homeless and to the children of soldiers at Ft. Drum.
Mrs. Hughes' positive attitude was infectious. She had a saying for everything. One of her favorites was, "When the day is dark and dreary we need to make our own sunshine." And that she did. She will be greatly missed by all who knew her.
In lieu of flowers, please feel free to make donations in her memory to: The Community Hospice of Albany, 445 New Karner Road, Albany, NY 12205 OR the Big Moose Community Chapel, Big Moose, NY 13331.
Calling hours: 4-8 p.m. Wednesday, May 23, at the Robert D. Gray Funeral Home, 49 Jordan St., Skaneateles. Celebration of her life: 10 a.m. Thursday, May 24, at the First Presbyterian Church, Skaneateles. To send condolences visit: robertdgrayfuneralhome.com.