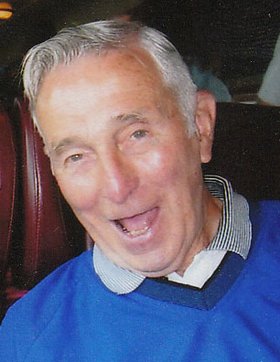 James Kearney
unknown - May 27, 2012
James Cornelius Kearney, 85, of Baldwinsville and Cedar Lake, passed away Sunday, May 27, 2012, at his home in the loving arms of his family. He was born in Syracuse the son of the late Cornelius and Agnes Kearney.
Jim was predeceased by his beloved wife, Katherine Kearney and siblings Veronica Kearney and Anna Mae Cook.
Surviving are his loving children, Kathleen (Joe) Valeriano of Utica, Carol (Jim) Delia of Baldwinsville, Mamie (Dave) Hensel of Baldwinsville, Jimmy (Brenda) Kearney of Massena, Dan (Dawn) Kearney of East Amherst, Bob Kearney of Canastota, grandchildren, Jami (Shawn) Racioppa, Jimmy (Amy) Delia, Matt Delia, Luke Delia, Tony (Kayla) Delia, Katie (Josh) Fowler, Tommy Hensel, Alaina Hensel, Pat Kearney, Colleen Kearney, Erin Kearney and Thomas Howell-Kearney and great-grandchildren, Joey and Emma Racioppa, Brook Lynne Fowler and Alexa Delia.
He is also survived by in-laws Frank Kinsella, Dan (Joan) Kinsella and Mary Ann Kinsella.
Jim was retired from the General Electric Company. He was a graduate of Dartmouth College, a Navy veteran of WWII, member and daily communicant of St. Augustine Church and an avid golfer.
Jim had a passion for life and family. We will miss his quick wit and generosity.
Calling hours: 4-8 p.m. Wednesday, May 30, at St. Augustine's Church 7333 O'Brien Road, Baldwinsville. A mass of Christian burial: 11 a.m. Thursday, May 31, in St. Augustine's Church. The Rite of Committal and burial along with military honors will be held in Immaculate Conception Cemetery, Fayetteville following the mass. Contributions in lieu of flowers may be made to St. Augustine's Church or Notre Dame High School.