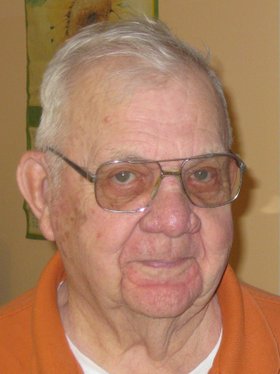 Donald L. Rasbeck
unknown - May 24, 2012
Donald L. Rasbeck, 87, of Baldwinsville passed away Thursday, May 24, 2012, at Crouse Hospital. He was a longtime Fair Haven Fire Department member, serving as Chief for 23 years. At 17, Don took over Rasbeck Oil where he worked for 35 years before merging it with E&V Energy. Don continued working for E&V Energy in an advisory capacity for more than 20 years. Don and his wife Mary Eva enjoyed spending winters in Florida.
Don was recently predeceased by his wife, Mary Eva (Leonard) Rasbeck earlier this month and his brother Russell.
Survivors: two sons, Thomas (Janet) Rasbeck of Baldwinsville and Timothy (Michelle) Rasbeck of Niceville, FL; and four grandsons, Christopher, Michael, Jacob and Bodin "Bo".
Don left us with this: "The clock of life is wound but once and no man has the power to tell just when the hands will stop, on what day or what hour. Now is the only time you have so live it with a will. Don't wait until tomorrow the hands may then be still." (Dick Campbell).
Services: Burial for Don and Mary Eva will be at the convenience of the family.
In Don's memory, contributions may be made to the Fair Haven Volunteer Fire Dept. 1444 Fair Haven Rd., Fair Haven, NY 13064.
Falardeau Funeral Home has charge of arrangements.