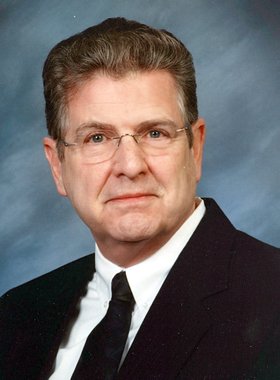 Thomas Yauger
unknown - July 11, 2012
Thomas "Bumpa" Yauger, 76, of Syracuse, was called home by our Lord on Wednesday, July 11, 2012. He knows the promises our Father has made to him: the promise of eternal life, to wipe away all of our tears and take away all the pain we have suffered here on earth. Born in Buffalo on Saturday, Oct. 5, 1935, he was a lifetime resident of the Syracuse area and was a veteran of the Air Force.
Thomas retired in 2005 after 45 years with Carpenter & Hughes Optical Center in Fayetteville. He was a communicant of Holy Family Church. He enjoyed gardening, bird watching and the ocean, especially Ocean City, NJ.
Thomas was predeceased by his parents, Ferdinand and Marion Yauger; and sisters, Olive Centanni, Marie Parke and Patricia Donohue.
Surviving are his wife of 56 years, the former Joyce Johnstone; daughters and son-in-law, Laurie and Dana Caza of North Syracuse and Lisa Kemz of Camillus; sister, Kathryn McGarry of Cheektowaga; grandchildren, Jessica, Heather and Aaron Caza and Ricky Kemz; great-grandchildren, Paige, Riannon, Alora and Aiden; and many nieces and nephews.
Rev. Msgr. Francis-Osei-Nyarko and Deacon Nick Alvaro celebrated a funeral mass at 11 a.m. on Monday, July 16 in Holy Family Church. Thomas was laid to rest in Greenlawn Cemetery, Warners. In lieu of flowers, contributions may be made to Holy Family Church, 127 Chapel Drive, Syracuse, NY 13219 or to the American Lung Association of New York, 1595 Elmwood Ave., Rochester, NY 14620. Please share condolences at buranichfuneralhome.com.