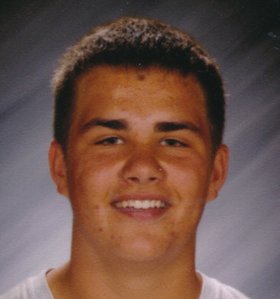 Joseph J. Rogala IV
unknown - July 15, 2012
Joseph J. Rogala IV, 19, of Phoenix, passed away unexpectedly Sunday, July 15, 2012, at University Hospital. Joey attended Baldwinsville High School where he loved playing football. He was a big Steelers fan. Joey had a big heart, loved his family and friends and enjoyed the spice of life. Joey was predeceased by his grandfather, Douglas Whitney, Sr. in 2010.
Survivors: his mother, Sherry (Michael) Schroeder of Phoenix; his brother, Matthew Schroeder of Oswego; his sister, Whitney Schroeder of Phoenix; his grandmother, Sherill Whitney of Florida; many aunts, uncles and cousins.
Services: 12:30 p.m. Friday, July 20, at the Falardeau Funeral Home and 1 p.m. at St. Mary's Church. Calling hours: 10 a.m.-12:30 p.m. Friday, July 20 at the funeral home, 93 Downer Street, Baldwinsville.