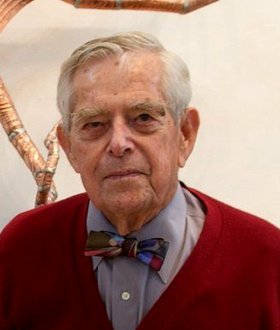 Col. James Von Kanel Ladd
unknown - July 9, 2012
Col. James Von Kanel Ladd, 89, of Cazenovia, exchanged worlds Monday July 9, 2012. He was born to the late General Jesse Amos and Florence Von Kanel Ladd, June 17, 1923, in Bowling Green, Ohio, in a car on his way to the hospital.
Jim graduated West Point Academy in 1946. He married his beloved Margaret McAlpine in 1946 and together they lived in Asia, Europe and the USA. James was a recipient of the Distinguished Services Cross, a decorated war hero, serving in Korea and Vietnam. Jim was a beloved father and husband as well as an accomplished painter, wood carver, printmaker and jeweler. His creativity inspired future generations of family artists. He was a dedicated member of CAVAC, serving 37 years. He was an active participant in Cazenovia arts, history and civic organizations.
James is survived by two children; Ann Ladd of White Plains, NY and Jim Ladd and wife Sal Donnita of Albuquerque, NM. He is also survived by three grandchildren; Kate in Philadelphia, PA, Jude and fiancé Sandy in Cazenovia, NY and Gillan La Fond of Seattle, WA. His burial will be with full honors at West Point on July 19, 2012 at 1:30pm. Jim was dearly loved by family and friends. We wish him happy trails on his next adventurous assignment. To send an online condolence please visit: taitfuneralhome.com.