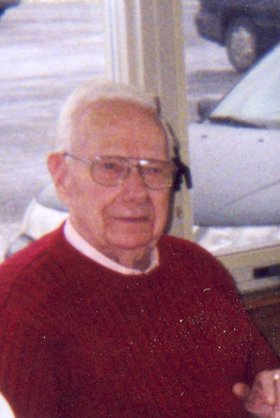 Albert W. Grennell
unknown - July 14, 2012
Albert W. Grennell, 95, of Marcellus, died Saturday, July 14, 2012, at Auburn Nursing Home. Born in Navarino, Al moved to Marcellus in 1947. He worked 30 years as an independent auto appraiser. Al was predeceased by his first wife, the former Helen Millier, in 1963 and his second wife, Virginia, in 2002.
Surviving are his dear friend Ginny Bruno; children Ronald (Marie), Raymond (Lena), Joanne (Dave) Shipman; stepchildren Bernard (Julie) and Harold (Pat) Rose; seven grandchildren and 13 great-grandchildren.
There were no calling hours. A memorial service was held 11 a.m. Wednesday, July 18, in the Freedom Baptist Church, 3324 E. Genesee St. Road, Auburn. Burial private. In lieu of flowers, contributions may be made to American Legion Ralph Share Post #297, P.O. Box 3, Marcellus, NY 13108.