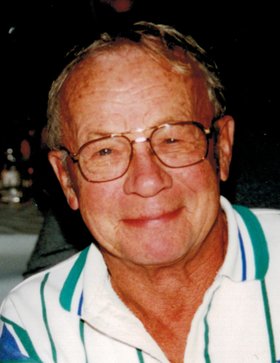 Robert C. LaGessie
unknown - July 9, 2012
Robert C. LaGessie, 88, died Monday, July 9, 2012 at Loretto's Cunningham Building. A native of Merrill, Wisc., he resided most his life in North Syracuse. He graduated from Merrill High School, and served in the Army during WWII. After the war, he owned and operated Pitcher Hill Services (an Exxon gas station and a swimming pool service).
He was an avid golfer, bowler and enjoyed trips to the Turning Stone Casino. He was a Master Mason with Memorial Lodge No. 648 F&AM of North Syracuse and a former member of the American Leigon Post 787 of Cicero.
He was predeceased by his daughter Patricia Alfieri, in 2009 and is survived by a son Michael R. (Alice) LaGessie of Jacksonville, Alabama; a brother, Lee of Albuquerque, NM; a son-in-law, Michael Alfieri of Liverpool; six grandsons, Todd (Jennifer) LaGessie of Albany, Timothy (Shannan) LaGessie of Orlando, FL, Scott (Mallory) LaGessie of Atlanta GA, and Jon LaGessie of Florida, Jeffrey Alfieri and Robert Alfieri of Liverpool; three great grandsons; two great granddaughters and a beloved pet dog, "Corky".
Services were private with burial in the North Syracuse Cemetery. Fergerson Funeral Home, 215 South Main Street, North Syracuse had arrangements.