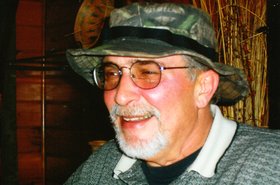 Matthew J. Porpilia
unknown - July 11, 2012
Matthew J. Porpilia, 63, of Baldwinsville passed away unexpectedly on Wednesday, July 11, 2012, at St. Joseph's Hospital Health Center. Born in Gowanda, N.Y., he was raised and educated in Hamburg, N.Y. Mr. Porpilia was a proud U.S. Army veteran serving in Vietnam, receiving two Bronze Stars for his service, one being for valor. After his service to his country he was employed by the New York State Police with Troop D in Baldwinsville for 20 years, retiring in 1993. Concurrently for the past 30 years Matthew was the owner and operator with the help of his family of MJP Enterprises in Baldwinsville. Mr. Porpilia was a member of the Vietnam Veterans of America CNY Chapter #103 and the retired NYS Police Association. He was also a member of Camillus Rod & Gun Cluband the former Commissioner of the Plainville & Lysander Fire Departments.
Matthew was protective and devoted to raising his family andt he always made them his top priorty. Left to cherish his love and dedication are his wife of 36 years, Cindy L. (Cheney) Porpilia; a son, Matthew J. (Jessica) Porpilia II of Winchester, VA: two daughters, Julie A. (Joe) Pisacano of Hauppauge, Long Island and Angela M. Porpiliaof Baldwinsville; his mother, Dorothy Porpilia of Hamburg, N.Y.; a granddaughter, Lily Porpilia; a brother, Marc (Amy) Porpilia of Fairport, N.Y.; Five sisters; Cate (Dean) Jewart of Hamburg, N.Y., Marie (Glenn) Myer of Honesdale, PA, Paula Porpilia of Great Cacapon, WV; Sue Lord of Tulsa, OK and Joanne Pepin of Olean, NY and many nieces, nephews, great nieces and great nephews and cousins.
Calling hours: 2 to 5 p.m. Saturday, July 14, at the Maurer Funeral Home Moyers Corners, 3541 Route 31 with a funeral service to follow at 5 p.m. with military honors. Private burial will be in Onondaga County Veterans Memorial Cemetery. Contributions in Lieu of Flowers may be made to Baldwinsvillle Meals on Wheels, 76 Canton St., Baldwinsville, NY 13027.