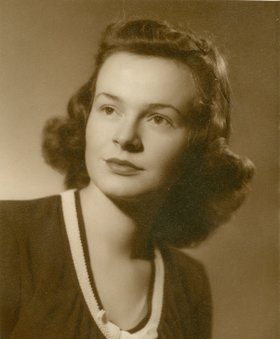 Marilyn Wheeler
unknown - July 6, 2012
Marilyn Merrill Wheeler, of Fayetteville, entered unto rest on Friday, July 6, 2012. Marilyn was born in Hinsdale, IL on July 3, 1923. She was the daughter of the late Ralph W. and Marguerite S. Merrill. Marilyn graduated from Rye High School, Rye, N.Y., and attended St. Lawrence University where she was a member of Kappa Kappa Gamma Sorority and where she met her husband. Marilyn ran a home-based daycare for many years before going into retail sales for over a decade. She was a member of the United Methodist Church of Fayetteville where she was a longtime Sunday School teacher and served on numerous committees. A lifelong knitter, Marilyn enjoyed knitting, particularly sweaters for her children, grandchildren and friends.
She was predeceased by her son, Richard in 2002; two brothers, Robert and John Merrill; and a sister, Elizabeth Wilson.
Marilyn is survived by her husband of 67 years, Platt M. Wheeler; daughter, Cynthia (John) Manning of Boxford, MA; daughter-in-law, Gini Wheeler of Rochester; sons, David (Daryll) Wheeler of Fayetteville, Robert (Amy) Wheeler of Raleigh, NC, Jonathan (Nan) Wheeler of West Hartford, CT; 18 grandchildren; six great-grandchildren; and beloved nieces and nephews.
Services: 2 p.m. Tuesday, July 10, at the United Methodist Church of Fayetteville. Burial is in Fayetteville Cemetery. Calling hours: 4 to 7 p.m. on Monday, July 9, at the Eaton-Tubbs Fayetteville Chapel, 7191 E. Genesee St., Fayetteville. For directions, florists, or a guestbook, please visit scheppfamily.com. Contributions: may be made to the United Methodist Church of Fayetteville, 601 E. Genesee St., Fayetteville, NY 13066 or the Fayetteville Free Library, 300 Orchard St., Fayetteville, NY 13066.