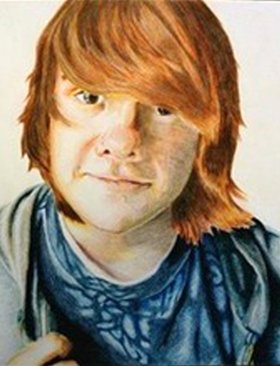 Austin J. Elmore
unknown - July 10, 2012
Austin James Elmore, 17, of East Syracuse, passed away on Tuesday, July 10, 2012. Austin attended East Syracuse-Minoa High School where he just completed his junior year. As a young child, Austin enjoyed playing soccer, biking and especially loved sledding in winter. Austin was an Honor student at ESM and was recognized at school for his outstanding artistic ability. He received a Scholastic Art Gold Key Award this year for his self portrait. As a young adult Austin loved art, music (especially The Beatles), learning to play the guitar, video games and spending time with friends. Austin was truly loved by everyone who knew him. He was predeceased by his grandparents, Woodrow Wisner and Jack and Ruth Elmore; an uncle, Richard Elmore; and an aunt, Wendy Wisner.
Austin is survived by his parents, Catherine and Steve Elmore; brothers, Alex and Aaron; his grandmother, JoAnn Wisner; uncles, Jim, Tom and Mike Elmore and Jim Stone; aunts, Linda and Phyllis "Sam" Elmore and Janece Stone and many cousins.
Funeral services: 11 a.m. Monday, July 16, at Immaculate Conception Church. Private burial will be in Oakwood Cemetery, Chittenango. Calling hours: 3 to 6 p.m. Sunday, July 15, at Immaculate Conception Church, 400 Salt Springs Rd., Fayetteville NY 13066. In lieu of flowers contributions may be made to the Austin Elmore Memorial Scholarship Fund, c/o Sue Dulac, ESM School District, 407 Fremont Rd., E. Syracuse NY 13057.