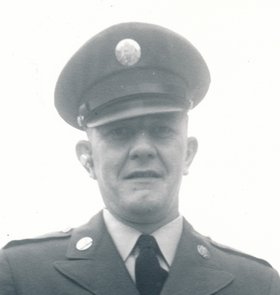 Joseph J. Bernholz
unknown - July 1, 2012
Joseph J. Bernholz, 89, of Baldwinsville passed away at home on Sunday, July 1, 2012. He was a WWII and Korean War veteran, serving in the Army for 20 years as a very proud soldier. Joseph was predeceased by his parents, Joseph and Mary Bernholz and his daughter Patricia.
Survivors: his wife of 57 years, Masue (Katsuda) Bernholz of Baldwinsville; a daughter, Kathleen (Jon) Schloesser of Florida; 2 sons, John Bernholz of Baldwinsville and Edward Bernholz of Corning; his sister Ann Mirback of CA; his brother John (Cheryl) Bernholz of Auburn; 3 grandchildren.
Services: Graveside services will be Tuesday, July 3, 2012 at 2:30pm in the chapel of Onondaga County Veterans Memorial Cemetery, Syracuse.