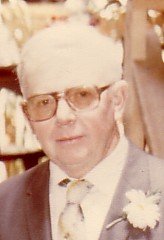 Alfred R. Stevens
unknown - June 28, 2012
Alfred R. Stevens, 86, of Skaneateles died Thursday June 28, 2012, after battling Parkinson's disease for many years. He was born in Auburn and graduated from Skaneateles High School. He operated a dairy farm on the outskirts of Skaneateles for many years. He was active showing registered Holstein cows where he won many ribbons and awards with some of his prize Holstein herd. In his spare time he sold farm equipment finally retiring in 1990. He was an avid bowler and later in retirement collected coins for a hobby.
He is survived by his wife, Gene Stevens, two daughters: Rita Kurtz and Christine Stott; a son Dale; his sister Alyce Cowles and his brother Webb. He is also survived by four grandchildren Britt, Cory, Amy and Bryan and several great-grandchildren and nieces and nephews. He was predeceased by his brother Charles, grandson Russ, and son in law Don.
Services will be private. Burial will be at Borodino Cemetery. In lieu of flowers contributions may be made to Borodino Volunteer Fire Dept. 2500 Nunnery Rd. Skaneateles, NY 13152.
To send condolences visit: robertdgrayfuneralhome.com.