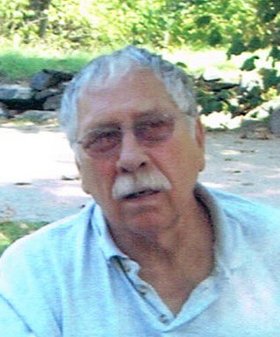 James F. Landry
unknown - January 23, 2012
James F. Landry, 78, of East Syracuse, passed away on Monday, Jan. 23, 2012, surrounded by his family. He was born in Ogdensburg on Aug. 31, 1933, the son of the late James and Corrine Landry, and attended East Syracuse High School. He was the owner of J.F. Landry Construction and Electrical Company in East Syracuse. He was a communicant of St. Mary's Church in Minoa and Clayton.
Jim was a charter member of the Knights of Columbus in East Syracuse where he was a 4th degree member and past president, and also a member of the Knights of Columbus in Clayton where he was the membership chairperson. He was the 50th year president of the East Syracuse Lions Club and Past Grand Commander of The Alhambra. Mr. Landry played hockey and coached Mid State Youth Hockey for 10 years. He was the past president of the secretariat of the Catholic Cursillo, a member of the R.E.C. Ministry for several correctional facility, past president of Salt City Country Two Stepper, one of the founding members of the East Syracuse Chamber of Commerce and Landlord Association of East Syracuse, a volunteer with the East Syracuse Fire Department, an avid wood carver and member of the Onondaga Wood Carvers, and most importantly the head of the entire Landry family. He enjoyed his time and his home in Clayton with his many family members and friends.
Mr. Landry was predeceased by his first wife, Barbara A. Landry; his brothers, Jackie, Ronnie and Larry Landry; and his son-in-law, Jerry Murnane.
He is survived by his wife of 30 years, Elizabeth; his children, Denise Murnane, Karen Landry, Jimmy (Kelley) Landry, and Amy (Buck) Taylor; step children, Debbie Sullivan and Dorene (Peter) Kuebler; brothers, Bill (Helen) Landry, Ed Landry; a sister, Corrine (Jim) Desimone; 10 grandchildren; four great-grandchildren; several nieces and nephews; and his beloved dog Molly.
Funeral Services: 8:15 a.m. Saturday, Jan. 28, from R.H. Schepp & Son Minoa Chapel and 9 a.m. at St. Mary's Church in Minoa. Burial will follow in St. Mary's Cemetery, DeWitt. Calling hours: 4 to 7 p.m. Friday, Jan. 27, at the funeral home, 109 East Ave., Minoa. For directions, florists, or a guestbook, please visit scheppfamily .com. Contributions may be made to Hospice of CNY or the American Cancer Society.