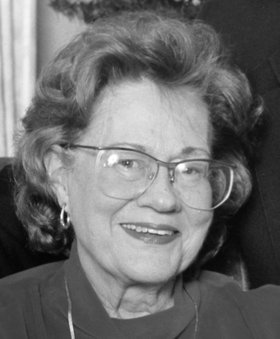 Dorothea Greenough
unknown - January 19, 2012
Dorothea Fairwin Greenough, 87, of Camillus, passed away peacefully Thursday, Jan. 19, 2012, at home surrounded by her loving family. Dorothea was born on Oct. 10, 1924, the daughter of Rev, William James McCullough and Emily Higgins McCullough of Schenectady and the cherished wife of Robert Greenough of Camillus. Dorothea was a graduate of Russell Sage College in the Cadet Nursing Program at Albany Hospital. She later worked at Memorial Hospital in Syracuse, although her primary love was in raising six healthy children who she adored as they adored her.
Dorothea is survived by her dear husband of 65 years Robert Greenough and her six children, Claire Kulczyk of Baldwinsville, Bob Greenough and his wife Celeste of Camillus, Janet Bernazzani and her husband Tom of Rockland, MA, her daughter Joan Maloney Chrane and husband Steve of Phippsburg, ME, her son Bill Greenough and his wife Stephany of Rochester and Gail Eberl and her husband John of Cazenovia. In addition, there are 11 grandchildren; Jason Kulczyk and Nikki Kulczyk, Ashley Greenough, Derek Greenough and Greta Back, Mike Maloney and his wife Katelyn, Linessa Bernazzani, Michelle Bernazzani and Devin Moses, Bill Greenough, Brian Greenough and Matt Greenough and Jenny Eberl and Tom Eberl; a brother Barry McCullough; a sister Barbara Romerhaus.
Calling hours and services were held at the B.L. Bush and Sons Funeral Home, 10 Genesee St, Camillus. Burial at a later date will be held in Park View Cemetery, Schenectady. In lieu of flowers, donations can be made to Hospice of Central New York 990 Seventh North St, Liverpool, NY 13088. Please sign the guestbook at blbush.com.