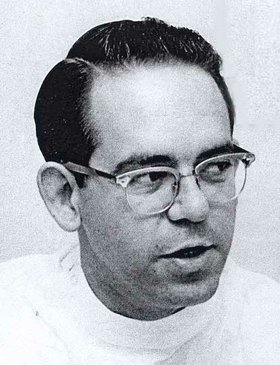 Col. Lawrence T. Spooner
unknown - January 1, 2012
Col. Lawrence T. "Spoon" Spooner, 78, of Liverpool, passed away Sunday, Jan. 1, 2012, at Syracuse Home Association. Born in Ogdensburg on Sunday, Jan. 22, 1922, he was the son of Adelore Joseph Spooner and Leota Jane Lawrence Spooner. He lived in Camillus for 46 years.
Lawrence was a 1950 graduate of Syracuse Central High School and 1953 graduate of St. Lawrence State Hospital School of Nursing. He also received a Bachelor of Science degree in nursing in 1959 and a master's degree in 1961, both from Syracuse University. He served active duty in the U.S. Army from 1954-1956, having received a commission in the Army Nurse Corps Reserve as a second lieutenant, and retiring with the rank of colonel. He was employed from 1967 until 1995 by the New York State Department of Health where he was in charge of the nursing home certification and survey program for the Syracuse Regional Office. He was also formerly employed as director of nursing services at Crouse-Irving Hospital from 1962 until 1967.
A member of St. Luke's Episcopal Church, he was a past warden and vestryman. He was a member of the Central New York Chapter of the Military Officers Association of America and life member of the Reserve Officers Association.
Lawrence was predeceased by his brother, Harold, in 1974.
Surviving are his wife of 54 years, the former Beverly Gene Howser, a resident of Syracuse Home; daughter and son-in-law, Linda J. and Tom Corcoran of Solvay; sons and daughters-in-law, Robert L. and Cindy Spooner of Phoenix, Bruce W. and Sibylle Spooner of West Simsbury, Connecticut and Mark J. and Lisa Spooner of Oneida; 11 grandchildren; and two great-grandchildren.
Calling hours: from 4 to 6 p.m. Thursday, Jan. 5, at St. Luke's Episcopal Church, 5402 West Genesee St., Camillus. Services following at 6 p.m. at the church with the Very Rev. Craig R. Swan officiating. Private burial will be at Onondaga County Veterans Memorial Cemetery. Arrangements are by the Buranich Funeral Home, Camillus.
In lieu of flowers, contributions may be made to St. Luke's Episcopal Church, P.O. Box 91, Camillus, NY 13031. Please share condolences at buranichfuneralhome.com.