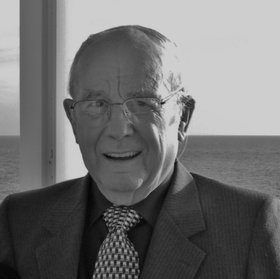 Neil J. Miller
unknown - January 15, 2012
Neil J. Miller, 83, of Liverpool, passed away unexpectedly on Sunday, Jan. 15, 2012.
He was born in Buffalo and was a resident of Liverpool for the last 46 years. Mr. Miller retired from Agway Inc. after 35 years of service as a general auditor. He was a life member of the Syracuse Elks Lodge #31.
He was predeceased by his first wife, Judith "Jay" in 1975.
Surviving is his wife of 35 years, Sarah "Sally" Miller; 7 children, Ruth Burgess, David (Jeanette) Miller, Louise (John) Porter, Jean Miller, Richard (Catherine) Enright, William (Carol) Enright, and James (Angela) Miller; 7 grandchildren and 3 great grandchildren.
Funeral services: 9 a.m. Thursday, Jan. 19, at the Maurer Funeral Home Moyers Corners and 10:00 a.m. in Christ the King Church, 21 Cherry Tree Circle, Liverpool. Calling hours: 3 to 8 p.m. Wednesday, Jan. 18, at the funeral home, 3541 Rt. 31, Baldwinsville. Contributions may be made to the Humane Association of CNY, Inc. PO Box 38, Liverpool, NY 13088.