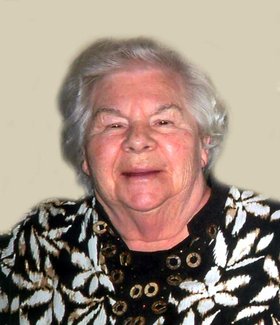 Florence C. Ruffini
unknown - January 14, 2012
Florence C. Ruffini, 78, of Camillus, passed away Saturday, Jan. 14, 2012 at home. She was born in Greenwich Village, New York City, on Saturday, April 22, 1933. One of seven children to proud Irish parents, John and Irene Larkin, she grew up in a family whose devotion to each other was as great as the poverty they shared. Florence's ability to see goodness and humor in life and her undying faith that God will always provide endeared her to everyone who had the fortune to meet her.
She married Philip Ruffini on February 12, 1955, and shortly thereafter moved with their newborn to Enfield, Connecticut, where she made lifelong friendships with people who became as family to her. Florence had three more children in Enfield before moving her family to Syracuse in July 1964.
After settling her family in Camillus, she became an active communicant of St. Joseph's Church and member of the Altar & Rosary Society. She sat on the parish council, building relationships with others who shared her compassion. God blessed her with her fifth child in 1965 and her family was now complete.
It was in the spring of 1969 that Florence and Phil decided that in order to provide for their growing family, they would gamble and try to build a business for themselves. Florence thought of the name "Rumetco," short for "Ruffini Metal Company." She then took on babysitting, survey research and paper distribution jobs to feed and house her family while Phil built their business. As was always true to her beliefs, God provided and Rumetco not only provided for her family but her children's' and other families as well for the last 43 years.
One of the greatest loves Florence had besides her children, grandchildren, and friends was her love for her brothers and sisters. There was always love and much laughter when the Larkins got together, a tradition she passed down to her children who are close to their cousins. To Florence, love for one another, even strangers, was how to live.
Florence was the last of her family to leave us, but she will be greeted by her parents, brothers and sisters. We are sure that the reunion in Heaven will be one for the ages. Until we join you again in Heaven, Mom, God bless and bless God for giving us such a happy and loving mother.
Preceding Florence to Heaven were her parents, John and Irene Larkin; brothers, John, William Harold and Robert; and sisters, Mary Fisher and Eileen Fogarty.
Surviving are her husband of 57 years, Philip H. Ruffini; sons, Philip (Jean Delia) Ruffini of Fayetteville and Louis (Deborah Mather) Ruffini of Camillus; and loving daughters, Jane (Joe Billings) Ruffini of Camillus and Gia (Kevin Sadowski) Ruffini of Syracuse. Florence was also the loving grandma to 12 grandchildren; and great-grandmother of two.
Calling hours: 3 to 7 p.m. Tuesday, Jan. 17, at the Buranich Funeral Home, 5431 W. Genesee St., Camillus.
Services were at 9:30 a.m. Wednesday, Jan. 18 at the funeral home and at 10 a.m. in Holy Family Church where Rev. Daniel O'Hara and Deacon Nick Alvaro celebrated a funeral Mass. Florence was laid to rest in Greenlawn Cemetery, Warners. Contributions may be made to Silver Fox Senior Social Club, 22 E. Genesee St., Baldwinsville, NY 13027. Please share condolences at buranichfuneralhome.com.