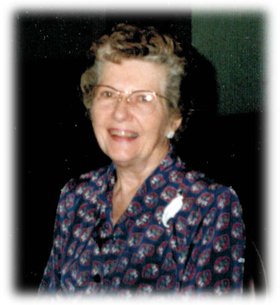 Gloria McCurdy
unknown - January 6, 2012
Gloria Fergerson McCurdy, 89, died Friday, Jan. 6, 2012. She was a life resident of North Syracuse and a fourth generation member of the Fergerson family that settled in North Syracuse in 1826.
A graduate of Morrisville State College, Mrs. McCurdy was a retired bank auditor for On Bank where she had worked for 24 years. She was a member of the Luther Memorial Lutheran Church and a 60-year life member of Centerville Chapter No. 185, Order of the Eastern Star.
She was predeceased by her husband, James, on July 21, 1986, and by her son, Neal, on Feb. 15, 2010.
Surviving are a brother, Lewis A. Fergerson and a sister, Nina B. Fergerson, both of North Syracuse; a niece, Sondra F. Corso of Marietta, Georgia; three grandnieces, Jennifer (Jeff) Crockett, Rebecca Corso and Megan (Eric) Walradth and several cousins.
Services: 11 a.m. Thursday, Jan. 19, at Luther Memorial Lutheran Church, 435 South Main Street, North Syracuse. The family will greet friends following services. Private burial will be in North Syracuse Cemetery.
Memorial messages may be left at FergersonFunealHome.com.