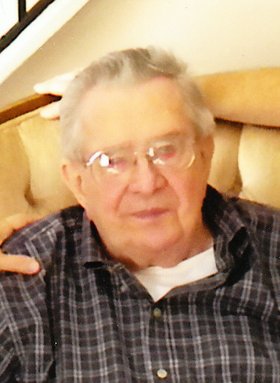 Carl J. Zaepfel J. Zaepfel
unknown - January 7, 2012
Carl J. Zaepfel, 87, formerly of Liverpool, passed away on Saturday, Jan. 7, 2012. Carl was born and raised in Buffalo, a son of the late Albert and Anna Zaepfel. A WWII U.S. Army-Air Corp. veteran, he served in the Pacific Theatre of operations. Carl graduated from the University of Detroit receiving his bachelor's degree in engineering. Mr. Zaepfel retired from Niagara Mohawk as an electrical engineer after 35 years of service. He was a Communicant of Christ the King Church in Liverpool serving on their finance committee. Carl was also a member of the Syracuse Power Squadron. He is predeceased by his wife, Adelaide "Penny" in October of 2010.
Surviving are his eight daughters, Anne Marie (Kenneth) Maskulinski, Linda Zaepfel, Carol (Bruce) Steele, Barbara Zaepfel, adopted daughter, Patty, Corinne (Gennaro) Falco, Judith (Robert) DeWeese, Ellen (Lawrence) Davies and Nancy (Peter) Bush; his brother, Bruce (Jane) Zaepfel, 10 grandchildren; a great-grandson; and several nieces and nephews.
Funeral services: 8:15 a.m. Tuesday, Jan. 10, from the Maurer Funeral Home Moyers Corners and 9 a.m. in Christ the King Church, 21 Cherry Tree Circle, Liverpool, with entombment to follow in Our Lady of Peace Cemetery Mausoleum, Clay. Calling hours: 4 to 7 p.m. Monday, Jan. 9, from at the Maurer Funeral Home Moyers Corners, 3541 Rte. 31, Baldwinsville. Contributions may be made to Manlius Fire Dept., 4 Stickley Drive, Manlius, NY 13104 or Wynwood Manlius, 100 Flume Rd, Manlius, NY 13104 for the care and compassion shown towards Carl.