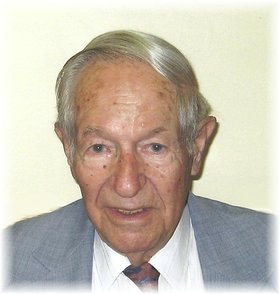 Herman E. Habegger
unknown - November 28, 2011
Herman E. "Ham" Habegger, 96, of Fayetteville and Sun City Center, Fla., joined the Lord Nov. 28, 2011. Born Oct. 3, 1915, in Berne, IN, he was the son of the late Levi and Caroline Liechty Habegger who came to America in 1890 from Switzerland. Herman was predeceased by his wife of 61 years, Imogene G. Riley; and two daughters, Karen Lee and Barbara J. Bates. He is survived by a son, Gary H. Habegger (Joan); granddaughters, Karen Pierce, Kelly Burlingame, Rene Durney, Wendi Taormina (Norman), Melissa Bates; and his beloved companion, Patricia Heinzman.
He worked for Syracuse Supply from 1945 until his retirement in 1977; where he was national accounts manager and top salesman. In 1946 he became a charter member of the Fayetteville Lions Club; he joined the Fayetteville Masonic Lodge #305, 32nd degree Mason and Shriner. He was a member of the United Methodist Church of Fayetteville. In 1960 he was elected to the Village of Fayetteville Board of Trustees, serving 10 years on the Zoning Board of Appeals.
In Sun City Center (1980) he joined with Rev. Walter Creason and helped start the United Methodist Church, and was the oldest active member, a very religious man who served his God well. He was an active New York and Florida golfer who "shot" a Hole-In-One at age 92.
Memorial service: 3 p.m. Sunday, Jan. 8, at the United Methodist Church of Fayetteville. Inurnment will be in Fayetteville Cemetery. For guestbook, please visit scheppfamily.com. In lieu of flowers, contributions may be made to the United Methodist Church of Fayetteville, 601 E. Genesee St., Fayetteville, NY 13066.