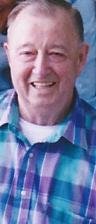 George A. Kline
unknown - January 2, 2012
George A. Kline, 89, of Phoenix, passed away at St. Joseph's Hospital, Syracuse, on Monday Jan. 2, 2012. Born in Oswego on Aug. 12, 1922, to his late parents, Grace (Calligan)and William Kline. A graduate of Oswego High School, class of 1940. He served in the U.S. Navy from 1943 to 1946. George retired from Carrier Corp., Syracuse after 30 years of service. He was predeceased by his wife of 52 years, Eileen (Kelleher) Kline in 1994; his daughter, Barbara Kline; two sons, Richard and Robert Kline; two sisters, Ruth Menard and Genevieve Price; a brother, Richard Kline.
Surviving are his daughter and son-in-law, Jean M. and Timothy Smiley of Baldwinsville; four grandchildren, Jessica, Craig, Kristi, and Kristen; several nieces, and nephews. George has requested no calling hours.
A spring service in the funeral home, followed by a burial in Phoenix Rural Cemetery with military honors, is planned. Details will follow at a later date. Contributions to: Maryknoll Sisters, in the name of Sister Jean Maloney at maryknollsisters.org. Allanson-Glanville-Tappan Funeral Home, Phoenix, has care of arrangements.