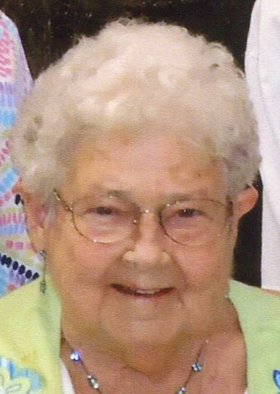 Kathleen M. Scarlett
unknown - December 28, 2011
Kathleen M. Scarlett, 84, of Liverpool, died Wednesday, Dec. 28, 2011, at Loretto Fahey in Syracuse with her daughters by her side. Kathleen was born and raised in Philadelphia, PA. She lived in Easton, Pa, before moving to Stewartsville, NJ, where she lived until residing on Driftwood Drive, Liverpool, to live with her daughter Rachele Scarlett and son Jimmy. She was the daughter of the late Edward and Mary (Kelly) McDonald.
Kathleen worked at New York Transformer in Alpha, N.J., and IMCO in Belvidere, N.J., for several years. She was past president of the AMVETS Post #17 Ladies Auxiliary in Easton, PA, past president of the Eastern Region AMVETS Auxiliary, and the past president of the State of PA AMVETS Auxiliary. In addition, Kathleen was also the Snappiest of the AMVETS Sacketts Fun Group of the Auxiliary Post #17 and AMVETS PA State Snappiest. Since moving to the Syracuse area, she was a communicant of St. Margaret's Church and a member of its Socialites group.
Kathleen was predeceased by her husband of 30 years, Thomas R. Scarlett and their daughter, KayLynn Zellner.
Surviving are three children: Cheryl (Jim) Maloney of Mattydale, Rachele Scarlett and Jimmy, both of Liverpool; her sister, June Fedor of Alameda, CA; four grandchildren; seven great-grandchildren; and all her beloved pets.
Calling hours: 2 to 4 p.m. Sunday, Jan 1, at Krueger Funeral Home, 2619 Brewerton Road, Mattydale, with a funeral service following. Burial: 1 p.m. Monday, Jan. 2, in Cedar Ridge Cemetery, Route 94, Blairstown, N.J. Contributions in Kathleen's memory may be made to St. Margaret's Church, 203 Roxboro Rd., Mattydale NY 13211. For more information, photos or to sign the guest book, please visit kruegerfh.com.