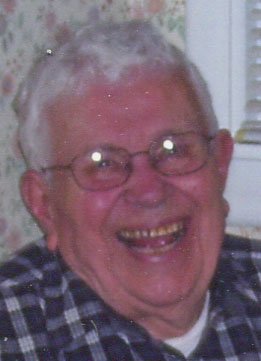 John T. Wentworth
unknown - December 28, 2011
John "Jack" T. Wentworth, 86, of Mattydale, passed away Wednesday, Dec. 28, 2011, at The Crossings Nursing Home in Minoa. Born May 16, 1925, to the late Raymond and Julia Wentworth, Jack was a lifetime resident of Mattydale and attended North Syracuse High School.
He served in the Merchant Marines during WWII and worked as a tractor trailer operator for Atlantic Richfield Co. and ACME Market for over 20 years. He then worked as a custodian at North Syracuse High School for 10 years before retiring in 1991. Jack enjoyed spending time at the family camp in Cape Vincent which he and his wife maintained for over 40 years. He was a communicant of St. Margaret's Church in Mattydale.
In addition to his parents, Jack was predeceased by two brothers, Raymond and Paul.
He is survived by his wife of 63 years, the former Elizabeth (Sauter); their three sons: John (Cathy) of Mattydale, Timothy (Ralf) of Syracuse, and Jeffrey (Tricia) of Marcellus; a brother: Frank (Maureen) of AZ; eight grandchildren; and six great-grandchildren.
Calling hours: 4 to 6:30 p.m. Tuesday, Jan. 3, at Krueger Funeral Home, 2619 Brewerton Road, Mattydale with a funeral service following at 6:30 pm. Contributions in Jack's memory may be made to St. Margaret's Church Angel Fund, 203 Roxboro Road, Mattydale NY 13211. For more information, photos or to sign the guest book, please visit kruegerfh.com.