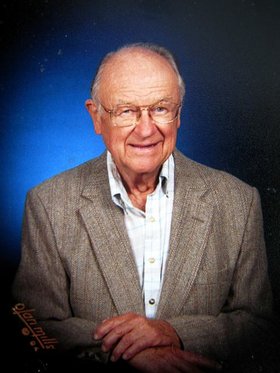 William T. Chapin
unknown - February 17, 2012
William T. Chapin, 90, of Baldwinsville, died Friday morning, Feb. 17, 2012, to join his beloved wife, Alice. Born on the family farm in Vermont, he lived in Baldwinsville since 1948 when he came to town to work at GE as a radar engineer. He was the graduate of a one-room high school in Essex Junction, Vermont, the University of Vermont, and earned his master's degree at Syracuse University. He was a member of the First Presbyterian Church, Baldwinsville, and was a charter member of Radisson Golf & Country Club, Baldwinsville. He was predeceased by his wife of 53 years, Alice M. Chapin in 2001.
Survivors: his daughter, Dr. Sally Chapin (Chris Holt) of Mercer Maine; two sons, Gregory T. (Kathy) of Syracuse and Steven J. (Susan) of Baldwinsville; five grandchildren, Ariel, Anabel, Courtney, Justin, Jacquelyn and two great grandchildren, Aaliyah and Alena.
Services: A graveside service is planned at Hartwick Seminary Cemetery, Cooperstown, NY in the spring. Falardeau Funeral Home, Baldwinsville has charge of the arrangements.