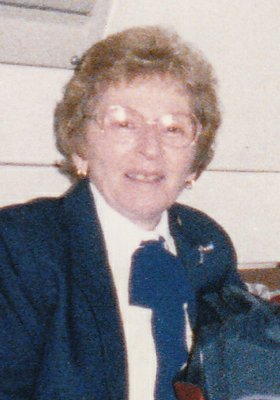 Vinon Hannah
unknown - February 12, 2012
Vinon Antoinette Ferary Hannah, 90, of Liverpool, passed away Sunday, Feb. 12, 2012, at Van Duyn Home and Hospital. She was born Oct.r 24, 1921, in Masontown, PA. Known for her sharp wit and keen intellect, Vinon was valedictorian of Masontown high School and was at the top of her class at Penn State until WWII intervened. As an Army nurse and officer she met Lt. Wilson Hannah. After a whirlwind courtship they were married on June 8, 1944. Vinon was honorably discharged in 1945.
After stops in Dorseyville PA and Huntington, WV, the family settled in Liverpool in 1961. Vinon worked many years for the Liverpool School District and was active in several ministries at St. Matthews Episcopal Church. Blessed with great energy and fierce determination, in retirement she traveled around the world, including the USSR, China and much of Europe, with money saved from various part-time jobs, including taking the dog census.
Surviving to honor her memory as a force to be reckoned with are her husband of 67 years, Wilson; three children, Wilson "Bob" Hannah of Pottstown, PA, Diane Persico of Kirkville, and Joseph (Beverly) Hannah of Liverpool; along with grandchildren Amie, Barbra, Laurel and Lucas, and great grandchildren Joseph and Xena Antoinette.
A service in celebration of Vinon's life: 9 a.m. Saturday, Feb. 18, at St. Matthews Episcopal Church, 904 Vine Street, Liverpool. In lieu of flowers, contributions may be made to the Samaritan Center, 310 Montgomery St., Syracuse, NY 13202.