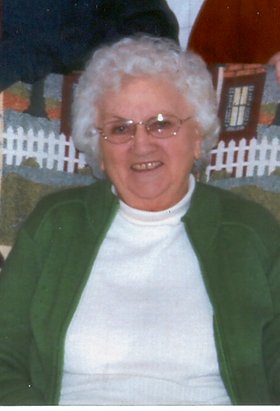 Ursula Mastrogiovanni
unknown - February 10, 2012
Ursula (DePalma) Mastrogiovanni, 91, of Baldwinsville, passed away peacefully on Friday, Feb. 10, 2012, surrounded by her loving family, following a brief illness. Born in Syracuse, .Ursula attended Assumption and St. John the Baptist schools prior to moving with her parents to Baldwinsville in 1937, where she became a communicant of St. Mary's Parish. Married to Vincent in 1944, Ursula became a lifelong dedicated wife, homemaker, mother and grandmother. She enjoyed sewing, knitting, crocheting, chess, gardening, playing the piano, and avidly supported the Yankees, Buffalo Bills, and the Syracuse Orange. Ursula was a highly accomplished cook who loved spending time and sharing the fruits of her labor with her husband, children and grandchildren.
Ursula was predeceased by her husband Vincent in 1999. She is survived by her sons Vincent (Cynthia), Michael (Maureen), her daughter Anne Marie (Daniel) Snell, and grandchildren Michael and Brian Mastrogiovanni, and Joanna and Peter Snell.
Calling hours: 4 to 7 p.m. Sunday Feb. 12, at Maurer Funeral Home Moyers Corners, 3541 Route 31, Baldwinsville. Funeral services: 9:45 a.m. Monday, Feb. 13, at Maurer Funeral Home Moyers Corners and 10:30 a.m. at St. Mary's Church in Baldwinsville, where a mass of Christian burial was celebrated followed by burial at Assumption Cemetery in Syracuse, NY. In lieu of flowers, contributions may be made in memory of Ursula Mastrogiovanni to the Francis House, 108 Michaels Avenue, Syracuse, NY 13208.