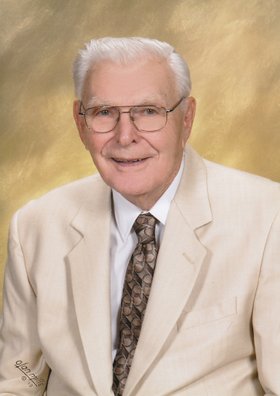 Joseph J. Rozwod
unknown - February 11, 2012
Joseph J. Rozwod, 85, of Liverpool, passed away peacefully on Saturday, Feb. 11, 2012, at his home surrounded by his loving family. He was born in Auburn, the son of the late Thomas and Helena Rozwod.
Joseph was a 1943 graduate of Marcellus High School and attended St. Lawrence and Syracuse Universities. He retired in 1987 after 39 years at the Electronics Lab at General Electric. A Navy veteran of WWII, he was a member of Liverpool American Legion Post #188.
He was a coach and player agent for the Liverpool Little League from 1967-1980 and a Troop Leader for the Liverpool Boy Scouts of America.
Joseph was active in St. Joseph the Worker Church in Liverpool, an avid member of the Salina and Flamingo Senior Bowling Leagues and most of all an enthusiastic fan of his children's and grandchildren's sports and musical events.
Besides his parents he was predeceased by his brother Henry Rozwod and sister Emily Wojnowicz.
Surviving to cherish his memory are his wife of 55 years the former Margaret Seaman, children, Thomas Rozwod and his sons Christopher and Matthew of Kelso, WA, Elizabeth (Michael) Novakowski and their children Joseph, Elise and Jimmy of Manlius, USN Retired Cdr. William (Sarah) Rozwod of Torrance, CA, James (Susan) Rozwod and their children Emily, Kathryn and Benjamin of Camillus, Mary (Edward) Smith and their children Megan and Thomas of Liverpool, Robert (Sandra) Rozwod of Brewerton, several nieces and nephews.
Calling hours: 4-7 p.m. Wednesday, Feb. 15, at the Maurer Funeral Home, 300 Second St., Liverpool. Funeral services: 11 a.m. Thursday, Feb. 16, at St. Joseph the Worker Church 1001 Tulip St., Liverpool. Contributions may be made to Hospice of CNY or St. Joseph the Worker Food Pantry.