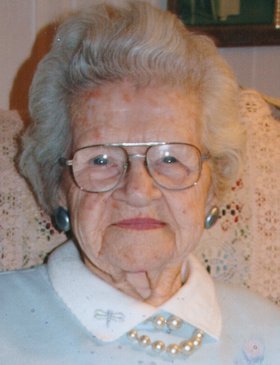 Millicent Adsit
unknown - February 8, 2012
Millicent Brilbeck Adsit, 101, of Baldwinsville, passed away peacefully at her home on Wednesday, Feb. 8, 2012. She was born in Syracuse and lived in Baldwinsville since 1939. She was a communicant of St. Mary's Church in Baldwinsville and taught religion classes for many years. Millicent was also a democratic inspector for the town of Lysander.
She was predeceased by her husband, John in 2001. Also by five brothers, Edward, John, Joseph, David and Richard and three sisters, Mary Segovis, Jane Petta and Elizabeth Brilbeck all of Syracuse.
Survivors: two sons, James (Mary Lou) Adsit. of Baldwinsville and John, Jr. (Linda) of Central Square; three daughters, Martha (John) Hannon of Rochester, Mary Elizabeth Mitchell of Vero Beach, Fla., and Bridget (Edmond) Theobald of Minoa; 10 grandchildren; five great-grandchildren; several nieces and nephews.
Services: 9:30 a.m. Saturday, Feb. 11, at the Falardeau Funeral Home and 10 a.m. at St. Mary's Church. Burial in Plainville Cemetery. Calling hours: 4-7 p.m. Friday, Feb. 10, at the funeral home, 93 Downer St. Contributions: In lieu of flowers to Arise, Inc. 635 James St., Syracuse, NY 13203.