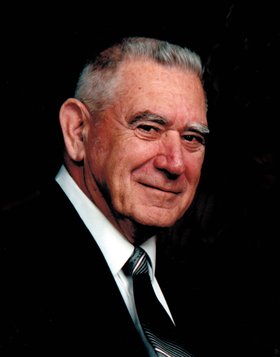 John C. Carroll
unknown - January 26, 2012
John C. Carroll, of North Syracuse, died Thursday, Jan. 26, 2012. He was 92. Mr. Carroll personified the greatest generation and was the quintessential American: self reliant, hard working, devoted to his family. He was a musician. He was an athlete. He was a soldier. He was a tool maker. He was a loving grandfather. He knew how to size up people, make a deal, and run a business. He could rebuild an engine, throw a curve ball, or identify the instrumental parts in the orchestra. He turned huge blocks of steel into precisely engineered products that built his business and American prosperity after World War II. He was a big and intimidating man, standing 6 feet tall, and topped by a short brush cut. He was all muscle and bone. The watch on his thick wrist needed two bands. Only in his final days of fighting cancer did he drop below 200 pounds.
Mr. Carroll's wife, Rita, entered a nursing home after a fall in April. Every day, Mr. Carroll came to sit at her side, a tender statement of life-long love. On special days -- Mother's Day, their anniversary, Thanksgiving -- he would put on a suit and tie. His daily visits ended in December when he came down with what he thought was pneumonia. It turned out to be the final stage of lung cancer. His fight with cancer is the only one he ever lost. Mr. Carroll never picked a fight, but until the cancer, he won every one that came his way.
He grew up on Park Hill in East Syracuse, where his father was a railroad conductor and his mother raised 11 children, played harp, violin and piano. Mr. Carroll was proud of his Irish heritage but didn't fit stereotypes -- he never took a drink. It was typical of his strength of character and personal discipline. For instance, once it was clear that smoking hurt his family, he quit cold turkey, even though he'd started as a child. His mother encouraged him to leave East Syracuse High School in his senior year to begin an apprenticeship as a tool maker, ending his dream of becoming a lawyer. He had great respect for education and made sure all of his children had every opportunity.
He played football, basketball, semi-pro baseball and golf, and improbably played banjo with the Syracuse philharmonic in the 1930s.
John and Rita Langenmayr were married on Nov. 6, 1943, at the height of World War II. The wedding took place at Sacred Heart Church in Cicero He received his draft notice the same day. In September 1944, Mr. Carroll shipped out for Europe, where he rose to the rank of Master Sergeant in the 778th Tank Battalion. The battalion entered combat on Nov. 5, 1944, and spent the next 176 consecutive days in front-line combat, spearheading for Gen. Patton's Third Army. Forty-eight soldiers in the battalion were killed in combat and more than 250 wounded or injured. Mr. Carroll never spoke about combat or the horrors he saw. Instead, he recalled anything that brought a laugh. He loved to tell the story of his only visit to Paris. A tank leading a column through narrow streets couldn't turn a corner without going through a hat shop. Every tank thereafter went through the same shop. Hats flew everywhere. Another time, ordered to retrieve a tank disabled by German fire, he set out driving a big wrecker. The Americans did not realize the tank was in a village just recaptured by the Germans. Mr. Carroll was as surprised as the Germans and barreled through town. Now behind enemy lines, he figured his best way back was the way he came. He made a U-turn and roared back through town, surprising the Germans again. He never joined a veterans group, saying he'd had his fill of marching in the war. In his 70s, he began attending reunions of the 778th Tank Battalion, where he was surprised to learn the depth of love the troops had for their demanding sergeant.
After the war, Mr. Carroll resumed his career as a tool maker, eventually founding Carroll Machine Tool, first on Burnet Avenue, then off Factory Avenue in Mattydale. By 1949, the Carrolls had built a house on Thompson Road, where they raised three sons and one daughter. Along the way, the Carrolls bought a camp on Shackleton Point Road, on the south shore of Oneida Lake on Billington Bay. The camp became a beloved summer gathering place for the family. He retired in 1984. As grandchildren were born, Mr. and Mrs. Carroll never missed a game, a concert, a recital or a stage production.
Mr. Carroll was born Oct. 4, 1919, the sixth of 11 children. He was predeceased by his parents, John William (1940) and Alice (Cole) Carroll (1987). He is survived by one brother, Tom Carroll of Claymont, Del., and one sister Virginia (Jack) Shorter, formerly of Cicero and now of Las Vegas, Nev. He was predeceased by siblings Florence (George) Eifler of Mattydale, Eldora (William) Rewak of Santa Clara, Calif., Martin (Mary) of DeWitt, Dorothy (Jim) Cassidy of Bridgeport, Eileen (Billy) Reisenberger, formerly of Rochester, Emmett (Enah) of Rochester, Robert of Arizona, and Edward of El Cajon, Calif.
He is survived by his wife; sons John M. (Laura) of Niskayuna, Richard A. (Nancy) of Chittenango, Thomas M. (Marianne) of Bridgeport; daughter Sue (Stan) Linhorst of Manlius; 11 grandchildren, Elizabeth McMunn, Laura and John Carroll; Heather Carrington, Katie and Rich Carroll; Tom, Jessica and Alison Carroll; Michael and Molly Linhorst; and five great-granddaughters, Shaelin McMunn, Anelise Castrodale, Haven and Meadow Carroll, and Estelle Carroll.
Calling hours were held at Fergerson Funeral Home in North Syracuse. A funeral mass was held at St. Patrick's Church, Chittenango. Memorial messages may be left at FergersonFuneralHome.com.