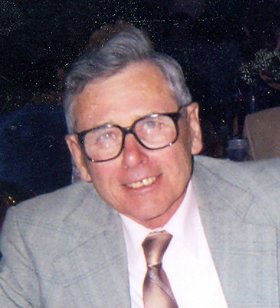 George L. Helmstetter
unknown - February 4, 2012
George L. "Bud" Helmstetter, 85, passed away Feb. 4, 2012, at home surrounded by his family. Born in Syracuse, he was the son of the late George Alfred Helmstetter and Glenna Barbara (Eckel) Helmstetter. Bud was a graduate of the New York Merchant Marine Academy (now SUNY Maritime College) and was commissioned an officer in the Naval Reserve. He was a licensed plumber and electrician, and worked as an independent contractor for many years. He later worked as a teacher with Onondaga-Madison Boces and taught plumbing to students. Bud touched the lives of many and his humor, compassion for others and dedication to family and friends will be remembered.
Bud is survived by his loving wife of sixty years, the former Evelyn Rolince, whom he married on September 29, 1951; his son, Christopher L. Helmstetter (Frances Heaton Helmstetter) of Ithaca; his daughter, Judith A. Schneider (Mark Edward) of West Oneonta; his four grandchildren, Christopher Louis (Toby) of Durham, NC, George Louis of Miami, Florida, Jeffrey Nathan and Monica Lynn of West Oneonta; two great grandchildren, Elgia Watts and Lula Rose of Durham, NC; a sister, Marilyn Booth of Holly, NY; and a nephew, nieces and cousins.
Calling hours: 2 to 3:30 p.m. Saturday, Feb. 11. at Eaton-Tubbs Fayetteville Chapel, 7191 E. Genesee St., Fayetteville. A period of sharing and eulogies follows from 3:30 to 4 p.m. at the funeral home. Burial will be in the springtime. For guestbook, please visit scheppfamily.com. In lieu of flowers, please make contributions to Catskill Area Hospice and Palliative Care Inc., 1 Birchwood Drive, Oneonta, NY 13820.